Nancy is a highly organized producer and production manager with expertise in video pre-production, web, print, and social media content creation, media relations, event planning, grant writing, and public speaking. She has excellent writing and editing skills with a talent for producing creative projects while supervising teams, working within a budget, and meeting key deadlines.
Recent credits include producing a Western-themed proof-of-concept short film, and two theatrical cabaret shows.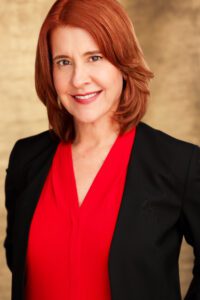 Past clients include Nickelodeon, Disney, The Family Channel. Hired for a variety of jobs including segment producer, production coordinator, script supervisor, and talent coordinator for a wide range of TV shows including Mayberry Man, All That, Clarissa Explains it All, Television Academy Hall of Fame Awards Show, and more.
Communications Experience
More than 12 years of experience managing all internal and external communications and marketing for nonprofit organizations serving more than 5,000 members.
Communications consulting for nonprofits, trade associations, and arts organizations. Consulting clients include Austin Regional Manufacturers Association, Carol Hickey Acting Studio, and The Alchemy Theatre.
What can I say about working with Nancy Gray? Just…GOOD stuff. She is not only the consummate professional but also amazing at her job. She is creative, organized, resourceful, and one of the hardest working people you will ever meet. But the icing on top…she is a joy to work with, fun, outgoing, and she listens. She makes it ALL work. I would hire Nancy on any project I had knowing that the work would get done and done right.
I've had the pleasure of working with Nancy Gray on many video and film projects for almost a decade. I can say without hesitation that she's got it all. She's intelligent, insightful and strategic, highly organized, uses common sense to make logical decisions, is an excellent communicator both in writing and in person, and understands budgetary realities. She's truly one of my favorite people to work with because she takes all the guesswork out of a project. If she says it's going to get done, it does. There's no higher compliment I can pay her than to say I trust her implicitly because she always delivers!
Nancy is a fabulous project manager – from developing the big picture to coordinating all the details, from the beginning to completion. She is professional, dependable, creative, organized and great to work with!
Nancy was an exemplary employee who went above and beyond. She is an excellent writer and did an amazing job of producing several high-quality videos. She coordinated two major capital campaigns and scripted and produced many special events. She was managing editor for a monthly printed publication and produced a weekly e-newsletter. She oversaw our social media, and website, and handled media relations—interacting with the press, writing press releases, and organizing press conferences. She was always eager to learn and take on high-pressure assignments.
When it comes to communications efficiency, professionalism, and talent, there is one person I turn to: Nancy Gray. Nancy and I had the opportunity to work together and fine-tune the complete production process for a monthly magazine — a beast in terms of project management! From concept to press, Nancy managed the magazine's editorial with a collaborative spirit and graceful persistence. Working with busy volunteer writers and editors, we were often hard-pressed to receive articles on time, but with Nancy's team mentality plus her writing and editing proficiency, we rarely missed a deadline! For years, our team was a fierce machine, churning out excellent content monthly, on time with a growing and increasingly interactive readership. Nancy's skill, dedication, attention to detail, and ability to help writers flourish guide her honed process, one that brings forth the best possible result every time.